Bring back childhood memories for yourself, or share the experience with your children by indulging in a Kisko Freezie Pop. Kisko Products is a proud family run business whose focus for over 40 years has always been to produce the best quality freezie pops. This Jamaican owned brand is perfect for a refreshing treat on the go, especially in the tropics, and with three different types, you can choose the size or type to suit your lifestyle.
A convenient 18 count pack of 20mlfreeziesare ideal for a cool down without much guilt. At the smallest available size of the three, the Kisko Kids is ideal for young children who have fun deciding which one of the 6 are the best flavours.
These famous giant sized freeze pops are not only big in size but also big in taste. The jumbo sized 156g tubes are produced in 6 classic flavours; cherry, blue raspberry, grape, orange, tropical and cream soda. Bigger is definitely better with these one of a kind frozen novelties.
Experience a tropical taste explosion as you indulge in these delectable Kisko Nice N Juicy freezie pops. This popular crowd pleasercarries 18 freezie pops at 66ml per pop offeringa favouriteflavour for everyone- Berry, Orange Passion, Key Misty Lime and Siesta Tropical Punch.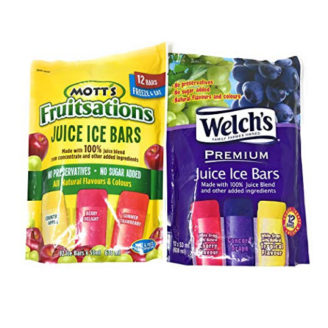 Premium taste and quality is what you find in these sensational juice ice bars. Offering a better alternative with no preservatives, no added sugar, using only natural flavours and colours, the Welch's and Mott's Ice Bars are perfect for those looking for a healthy but fun freeze pop option.