Goodlife Blue Mountain Spring Water
GoodlifeBlue Mountain Spring Water begins as raindrops, nurtured by trade winds travelling across the Atlantic finally falling in the elfin cloud forest of Jamaica's rugged, 7000 foot Blue Mountains. Here, annual rainfall of more than 300 inches creates an enveloping, cool mist that gives the quiet, brooding mountains their blush hue. Rain and mist drips off giant tree ferns, and is naturally filtered through a vast limestone aquifer that imparts a pure and smooth tasting spring water.
Want to do your body some good? Reach for a bottle of Goodlife which provides naturally occurring minerals and electrolytes that are essential for healthy human body functions. Goodlife is bottled at the base of the Blue Mountains in the lushest parish, Portland, where the range's slopes are home to a diverse tropical rainforest ecosystem of 600 endemic plants species and 200 exotic bird species.
Boasting an 8.0pH Alkalinity, Goodlife is a naturally filtered spring water that is bottled at the source from the lower North Western Blue Mountain slope.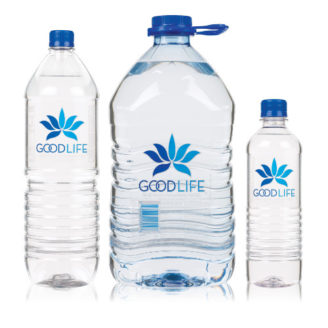 Goodlife is available in four popular sizes- 500ml, 1.5L, and 5L.