The 9Lives brand has a long history of caring for cats. 9Lives cat food first hit shelves in 1959, starting with wet cat food. In fact, it was the first wet cat food brand in the U.S. Over the years, the brand expanded into dry cat food! Life is so much better when you're well fed. That's true for cats, too. The tricky part is that cats have particular nutritional needs, but also particular tastes. So we work hard to provide nutritious and affordable cat food that cats actually love to eat. Nutrition is an important part of everyone's health, including cats'. So we make sure all 9Lives cat food varieties are complete and balanced for adult cats to help them live well. We also offer different formulas to help with specific nutritional needs, plus tips and advice to help cat parents look out for their cat's overall well-being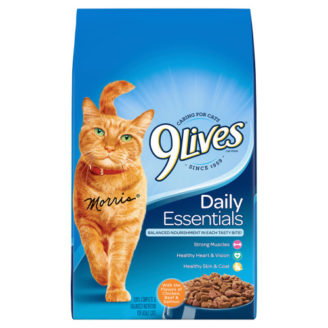 Give your cat the nutrition he needs every day in every life stage. 9Lives Daily Essentials® cat food delivers nutrition that helps support heart health, clear vision, strong muscles, and healthy skin and coat.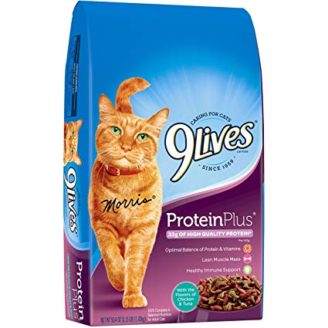 Satisfy your cat's cravings with the optimal balance of high-quality protein and vitamins, now in 9Lives® Protein Plus® dry cat food. You want your adult cat to live a healthy and happy life, so help guard their health today with the balanced nutrition found in 9Lives Protein Plus® dry cat food.