Dogs love the taste of rich, savory gravy. How do we know? Just watch what happens when you open a bag of Gravy Train® dry dog food. Your dogs come running the second they hear those crunchy kibbles hit the bowl. Add a bit of warm water to see some serious tail wagging and lip smacking. They smell the meaty aroma of real, hearty gravy. And the tail wagging doesn't stop until they've lapped up every delicious drop! When you feed your dogs Gravy Train, you know they're satisfied.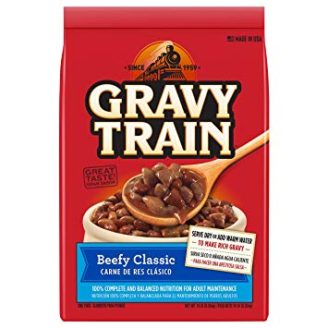 Gravy Train® Beefy Classic dry dog food has a meaty aroma and taste that dogs get excited about! Serve it up as a deliciously crunchy kibble or stir in warm water to create rich savory gravy.
With Meaty Classic Gravy Train® Beef Liver & Bacon Flavor dry dog food we didn't stop with one meaty flavor. We made an irresistible mix of three meaty tastes! Serve it as crunchy kibble or add warm water to make a hearty gravy your dog will adore.